Group Facilitation and Public Speaking
Justice-focused public speaking should provide an entry point for empathy through personal storytelling, while still being informative and highly engaging.
My approach to group facilitation and public-speaking is two-fold: I ground discussions in my own story to give audience members a personal connection to the issues at hand, while layering in proven tools, resources, and messaging approaches from my professional experience in trans justice organizing.
One without the other can be ineffective at impacting change: without storytelling, talking about the issues trans community faces and how cis folks can support us feels too abstract to really engage listeners and make them want to change. Without layering in tested tools and messaging, it's difficult for listeners to move forward and practically apply my recommendations into their own personal and professional lives.
My approach also focuses heavily on how shame holds us back from being effective allies, and teaches tools and ideas for how to let go of shame and simply focus on showing up as our best selves each and every day.
Fostering a Trans-Inclusive Therapeutic Environment: A Client Perspective
My 2020 Gender Education and Demystification Symposium (GEMS) Keynote, Fostering a Trans-Inclusive Therapeutic Environment: A Client Perspective, was my first major attempt to weave this approach into my work. My experience as a client in a residential treatment center left me feeling angry and hurt, but I did not lead with this emotion.I used my time instead to hold a mirror up to therapists in the troubled teen industry—not with the intention of shaming them, but rather to motivate them to do better. I grounded the session in sharing about my childhood, and the hardships I endured as a teenager in one of their programs as an entrypoint for empathy. Then, I closed with ways therapists could have made me feel safer—and ways that therapists currently working with trans clients can do so now.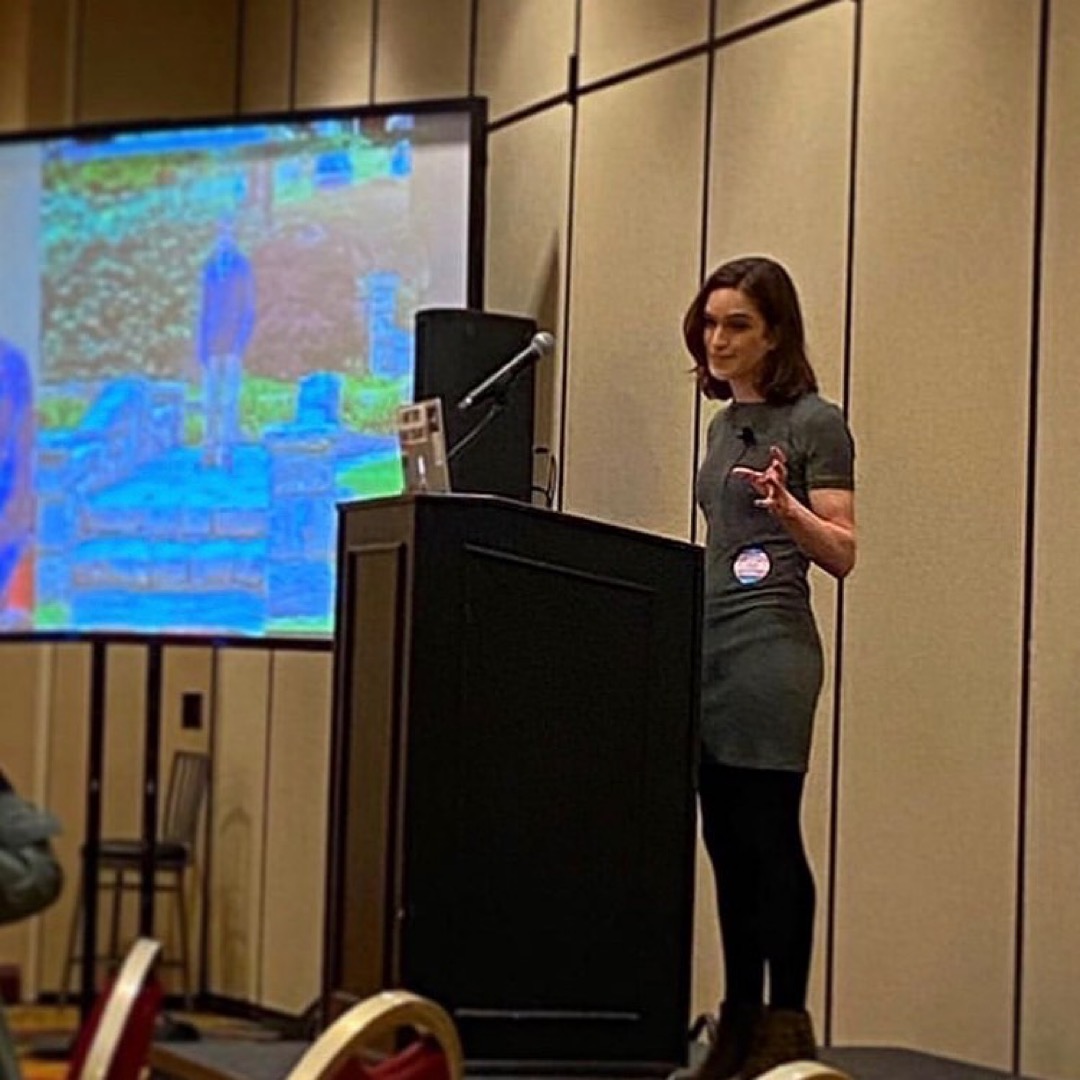 "Listening to Arielle tell their story was absolutely engaging and captivating! I was particularly impressed by the manner in which they were able to articulate their anger and frustration about being in past situations and settings where they were not permitted to express their authentic self all while demonstrating a level of understanding that people can do and be better that was truly inspirational! I, myself, was certainly motivated by their story, not just ideologically but, more importantly, in actionable ways."
—Judi Jacques, Founding Board Member at GEMS Conference
Transgender at Work: What's Your Role in the Movement?



My unique approach is also evident in my workplace training "Transgender at Work: What's Your Role in the Movement?" In this hour-long session, I begin with a guided meditation to put the audience at ease and encourage them to approach the session with curiosity rather than fear or shame. I then segue into sharing the story of my experience working at Starbucks as a transgender person: both what Starbucks did well, and areas where I feel the company could improve. Lastly, I generalize these teachings to a set of internal and external areas of growth necessary to be an ally to trans people in their own workplaces.
"On July 21st, 2022, Arielle was a part of Cold Spring Harbor Laboratory's new speaker series, frameSHIFT, in which social and cultural sides of working at an academic research institute are examined. They presented on how individual changemakers and allies play a crucial role in fighting for a future where transgender people are not just included, but also centered, prioritized, and wholly respected in the workforce. Arielle also facilitated a discussion with the group and answered any questions that individuals had."
—Katie Raftery, Vice President of Human Resources at Cold Spring Harbor Laboratory