As some of you might have noticed, I've been a bit quiet recently. Behind the scenes, there's been a lot of exciting changes happening at Trans & Caffeinated and I'm excited to communicate these to you all—especially those of you who've been on this journey with me for a while.
Where It Started
For those of you newer to this platform, Trans & Caffeinated began as a personal blog while I was working at Starbucks. I had lacked a meaningful outlet for my "I want to change the world" energy and my mom encouraged me to begin putting my thoughts onto paper. In Summer 2020, I was furloughed from my job and expanded to podcasting to platform other trans voices as well.
Where It's Gone
In January 2023, I took Trans & Caffeinated to its next phase when I left my last staff job and launched into consulting work full time. Some of you may have noticed I even rebranded to "Trans & Caffeinated Consulting." I've spent the past 3 years building the foundation for this new chapter; I've planted the seeds of future client relationships and tilled the soil. I've watched several of them bloom, and am ushering several new ones through their infancy. I am so deeply excited for what this next leg of my journey will become.
You can learn more about my services here—right now, it's a whole lot of workplace trainings for businesses seeking to create safer environments for transgender employees. On top of that, I'm organizing a series of community coffee events throughout the summer and fall, and continuing my research work with Transgender Law Center. All good stuff.
A Few Cool Happenings
Preorders Close Tomorrow | Trans Is Creation Collection
Preorders Close Tomorrow, Thursday, 6/15 at 11:59 PM CST for the very first Trans & Caffeinated merchandise collection, titled Trans Is Creation. As you may have noticed, this collection is centered around the butterfly's ability to literally create itself anew as it blooms from a chrysalis. Butterflies have been special to me since I was small, so when it came time to curate this initial collection, there was no question butterflies would be involved. As a small biz, preorders help ensure the future of my shop. Profits help me stock product on hand, so my delivery times can compete in an increasingly fast-paced digital market. Use promo code ART4FREE to get free shipping on stickers and prints. This code is valid for one day only.
Register Now | Free Webinar on Trans Liberation & Compassionate Leadership
Tuesday, June 21 Trans & Caffeinated is co-hosting a totally free, totally cool webinar with Rena Delevie, a "C-Suite Whisperer," consultant, and author of Compassionate Leadership. We'll be chatting about Trans Liberation & Compassionate Leadership, the DEI approach where people of all genders feel Seen, Heard, & Understood. Did I mention it's free to attend?! You can register here.
A little preview…
Joanna is a 52-year old white cisgender woman in a senior leadership position, working in financial services. For as long as Joanna can remember, she's had to bust her butt to set herself apart in a male-dominated industry. She had to fight for what she has, and she wears that on her sleeve.

Joanna has always considered herself an ally to LGBTQ+ people. Her daughter has a transgender soccer teammate who she supports wholeheartedly. Every June, she gives money to HRC to show her support. 

Last month, for the first time in her professional career, Joanna found herself directly supervising a transgender person, a trans woman by the name of Megan. 

Joanna was thrown a curveball last month when she received word about an HR complaint filed against her on the grounds of harassment. The claim stated that Joanna had repeatedly misgendered  Megan during a staff call with their Oakland office—even after being corrected twice. 

Joanna felt so ashamed and guilty. She knew Megan uses she/her pronouns, and her teenage daughter had repeatedly explained to her how bad it is to misgender someone. She went home that night feeling so upset and embarrassed by her behavior. She was too embarrassed even to tell her daughter or husband what had happened.

Join the free webinar to find out what Joanna did, what she could have done, and what she's doing now…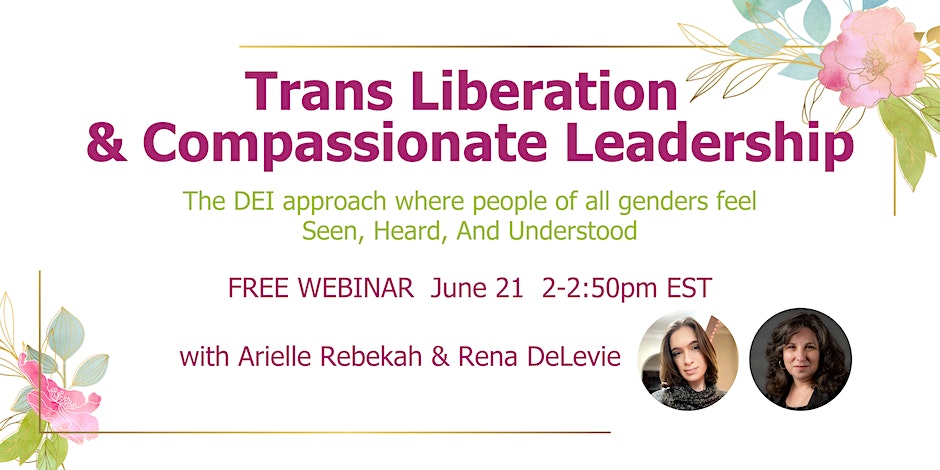 Want to work together?
I love keeping my workload varied, and I'm always down to chat about how we might work together. Want to work together, but unsure if your project aligns with my skillset or expertise? Never fear—and feel free to drop a line! Worst case scenario, we simply have a cool conversation 🙂
Follow Trans & Caffeinated on Instagram
Last but not least, follow Trans & Caffeinated on Instagram! At the moment, I am a one-person operation! wahoo! While the goal is to eventually grow and maintain multiple platforms, I am transparently a whole lot better right now at keeping up on Instagram. So give the IG a follow for the most accurate and updated information!