Graphic created by Mika Turbo
TW: Fatal transphobic violence, assault
Every year on November 20th, we take time to remember those whose lives were cut short by transphobic violence. Trans Day of Remembrance stories typically emphasize the number of trans folks who were killed that year followed by their names and small blurb about their life and death. Most years, the majority of the victims are transgender women of color, who live at the intersections of racism, transphobia, and misogyny and are disproportionately affected by violence. And at TDOR vigils, we read the total number of folx who died, their names, and usually a few details about them, and then we part until the next year when we do it all over again.
Trans people are more than a death toll to be counted on tDOR.
For obvious reasons, I always leave TDOR services feeling sad. But beyond that, I also feel angry. Why do we as a society insist on waiting until people have been killed to start paying attention? Why aren't we celebrating transgender people the other 364 days of the year? Why are we more focused on the number of transgender people who have died than on the lives they lived? And why aren't we doing more to protect our trans siblings while they're alive in hopes that there comes a November 20th when there are no names left to read?
Beyond this, focusing on the number of trans people killed in a given year almost makes the death toll seem like a contest. But there is nothing won, there is no prize to be had when the death toll reaches a certain number. The names on this list were real people, real lives that were cut short by the click of a trigger or a flick of a knife.
both Law enforcement and media are falling short. Trans people deserve better.
After a trans person is killed, local police are frequently the first to arrive on the scene, giving them undue power to influence the narrative of their death. Law enforcement routinely handles this power irresponsibly, actively ignoring the fact that a murder victim was transgender until they determine that their gender identity without a doubt played a role in their murder.
Many local media outlets readily take cues from local law enforcement, refusing to amend names and pronouns in their publication until law enforcement does the same. In my time working at GLAAD, one of my responsibilities was reaching out to reporters who had written defamatory or otherwise irresponsible pieces about a trans person's murder asking that they amend their reporting, and I was repeatedly baffled by the responses I received.
Reporters frequently hid behind the excuse that their "publication's policy was to use the name and gender used by the police" without acknowledging that police most frequently base their reports on the name and gender listed on a victim's legal identification. And because legal name and gender marker changes are often prohibitively expensive (Mine cost over $300 in NJ) or outright impossible (many states still require bottom surgery before amending a legal gender marker), many trans people do not have IDs that accurately reflect their identity. For laws by state, click here.
The high death toll of trans people is not a coincidence — it is the result of transphobic hate, in many cases intersecting with racism and misogyny. By refusing to acknowledge trans peoples' identities in reporting, police and local media are complicit in the epidemic of trans homicide. This is especially evident in the 31 states that do not interpret hate crime laws to include gender identity. In these states, the fact that someone is transgender has little bearing on how the case is handled, so reporting is even less likely to acknowledge their identity. In these states, transphobic violence is rarely framed as a concern outside of local advocacy groups, and if the rise in hate violence during the Trump presidency has shown us anything, it's that cavalier or hostile attitudes toward LGBTQ+ people by those in power can easily exacerbate hate. This helps to explain the increased incidence of transphobic violence in states like Louisiana, Texas, and Florida, where lawmakers have repeatedly blocked hate crime legislation.
And if we're thinking critically, we realize that there are likely more victims of fatal transphobic violence than we're even aware. What happens when trans folx are only out as trans to a select few people, so local advocacy groups are not armed with the knowledge to identify them as such? What about homeless trans folx who were disconnected from friends and family at the time of their death, and therefore don't have anyone come forward to correct police reports when they are misgendered? What about the trans folx whose families scramble posthumously to cover up their gender identity because they were so ashamed to have a transgender relative? Who is honoring and celebrating them? And how can we as a society make sure that trans people get the love and support they deserve while they are alive so that one day, we can stop focusing on how many of us are dead? Why aren't we doing a better job providing funding and resources to individuals, groups, and organizations that make the world a better place for transgender people year-round so that one day, there are no names to read on TDOR? Fighting for that reality is the ultimate goal. But until that day, we will continue to say their names.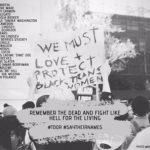 On Trans Day of Remembrance, we remember the trans lives we lost this year. In memoriam…
Dana Martin, 31, a black transgender woman, died on January 6th in Montgomery, AL. Local advocates and friends noted that she was a well-loved person in the community and she will be greatly missed. Rest in power, Dana.
Jazzaline Ware, a black transgender woman, died in March in Memphis, TN. She was a lash extension technician and a beloved friend. Rest in power, Jazzaline.
Ashanti Carmon, 27, a black transgender woman, died in Prince George's County, MD on March 30. Her fiancé Phillip Williams remembers her fondly, "Until I leave this Earth, I'm going to continue loving her in my heart, body, and soul." Rest in power, Ashanti.
Claire Legato, 21, a black transgender woman, died in Cleveland, OH on April 15. Claire was an actress involved with local theatre companies in Cleveland. Friends and family remember how "full of life" she was. Rest in power, Claire.
Muhlaysia Booker, 23, a black transgender woman, was found dead in Dallas, TX on May 18, days after being assaulted. After her assault, she held a press conference pleading with folks to take action to protect black trans women from violence. Muhlaysia's mother spoke about her life and death at her funeral service. Rest in power, Muhlaysia.
Michelle "Tamika" Washington, 40, a black transgender woman, died in Philadelphia, PA on May 19. She was a longtime trans advocate and was studying to be a nurse. Washington's friend and City Council candidate Deja Lynn Alvarez said, "It's time that we say this is happening to trans women, it's happening to black trans women, it's happening to trans women of color. …It's time that we shift the focus to that." Rest in power, Tamika.
Paris Cameron, 20, a black transgender woman, died in Detroit, MI on May 25. Local advocates are working to help solve her case. Rest in power, Paris.
Chynal Lindsey, 26, a black transgender woman, died outside of Dallas, TX on June 1. She was a caregiver at Alpha Home Health Care and was studying computer science. Rest in power, Chynal.
Chanel Scurlock, 23, a black transgender woman, died in Lumberton, NC on June 6. Following her death, a friend posted on Facebook, "You lived your life as you wanted. I'm proud of you for being unapologetically correct about your feelings and expectations of YOU." Rest in power, Chanel.
Zoe Spears, 23, a black transgender woman, died on June 13 in Fairmount Heights, MD. Friends described her as a "very bright, beautiful person." One friend noted that "she really wanted to change, but so many struggles are placed on our community that it makes it really hard for us, even when we want to change. Zoe loved pizza and wanted to work in retail. Rest in power, Zoe.
Johana "Joa" Medina Leon, 25, a Salvadorian transgender woman, died in June while in ICE custody. She dreamed of coming to the US and becoming certified as a nurse since she had been unable to do so as a transgender woman in her home country. Rest in power, Joa.
Layleen Polanco Xtravaganza, 27, a trans woman of color, died on June 7 while being detained at Rikers Island in NYC. She was a member of the House of Xtravaganza. Loved ones described her as free-spirited and good-hearted, remembering how she would light up a room when she entered. Rest in power, Layleen.
Brooklyn Lindsey, 32, a black transgender woman, died on June 25 in Kansas City, MO. Brooklyn loved hair, makeup, dancing, and rapping in front of the mirror. She wanted to be a life coach, and dreamed of one day having her own apartment and adopting a child. Rest in power, Brooklyn.
Denali Berries Stuckey, 29, a black transgender woman, died on July 20 in North Charleston, SC. One friend described her as a "free spirit" and "very outspoken." They also noted that "if you didn't like the fact that she was trans, she would give you a piece of her mind." Another noted that she "was always a nurturing person. A very sweet person. Any anniversary, any birthday, event, anything representing or celebrating you, she was always there." Rest in power, Denali.
Tracy Single, 22, a black transgender woman, died on July 30 in Houston, TX. Friends describe her as a "larger-than-life" personality and remember her love for fashion, drag, and performing. She frequently visited a local center for folx experiencing homelessness to give dance lessons. She will be missed. Rest in power, Tracy.
Bubba Walker, 55, a black transgender woman, died in late July in Charlotte, NC. "She was always smiling and was a people person. She lit up everywhere she went and everyone loved her," noted a local activist. "Everybody loved her." Rest in power, Bubba.
Kiki Fantroy, 21, a black transgender woman, died on July 31 in Miami, FL. Kiki loved music and doing hair, and her mother noted that she "dreamed of being the next RuPaul." Rest in power, Kiki.
Jordan Cofer, 22, a transgender man, died during the August 4th mass shooting in Dayton, OH. Jordan described himself as a "trans boy with a loving heart and way too much work to do." His loved ones remember him as a sweet, caring young man who was "extremely bright" and "well-liked." Rest in power, Jordan.
Pebbles LaDime "Dime" Doe, 24, a black transgender woman, died on August 4 in Allendale County, SC. Loved ones described her as extremely loving with a "bright personality," and noted that she was "the best to be around. Rest in power, Pebbles.
Bailey Reeves, 17, a black transgender girl, died on September 2 in Baltimore, MD. Friends and family remember her for her "love of life." Rest in power, Bailey.
Bee Love Slater, 23, a black transgender woman, died on September 4 in Clewiston, FL. Bee's friend told reporters, "She had a really, really sweet heart and she'd never harmed anyone, never put anyone in harm's way." Rest in power, Bee Love.
Ja'leyah-Jamar Berryman, a black gender non-conforming person, died on September 13 in Kansas City, KS. Their family remembers them fondly. Rest in power, Ja'leyah-Jamar.
Itali Marlowe, 29, a black transgender woman, died on September 20 in Houston, TX. Rest in power, Itali.
Brianna "BB" Hill, 30, a black transgender woman, died on October 14 in Kansas City, MO. She was a beloved community member and a fan of Kansas City football. On her facebook, she proudly declared, "I'm a cool person and A happy [trans] female(Period!)" Rest in power, Brianna.
Rest in peace and power to all those we have lost.*
*Please note that this list only reflects those who were killed in the US as a result of transphobic violence — transgender people experience high rates of fatal violence worldwide, as well as other elevated risk factors that may lead to their deaths. For a full list of those we lost in 2019, check out TDOR's page Memorializing 2019.
---
How can you take action to support the TGNC community?
In no way to detract focus from those who were killed this year, I want to empower each of you to contribute to a brighter future for transgender people by becoming better allies, uplifting members of the community, holding others accountable for transphobic views, and celebrating stories of transgender greatness. Here are some ways you can do that.
Share graphics and articles on social media about transgender people — both in our lives and in our deaths.
Posting about the epidemic of trans homicide helps to increase public awareness of the issue, which helps cultivate a national conversation about how to address it.
Share this article, share other articles, and share graphics that honor our dead. Share stories of transgender greatness, share stories of transphobic hate. Urge others to do the same. Spread love for the transgender community and remember that every single day is a new chance to start a conversation.
Recognize that your work to becoming a better ally is never over.
The TGNC community is constantly growing and ever-changing. There will always be new information to learn, new perspectives to understand, and new concepts to grasp. It is crucial that you read new works and stories from a variety of transgender voices — not just mine. And if you find yourself questioning how to be a better ally to trans people, you can use resources like PFLAG's Guide to Being a Trans Ally or NCTE's Supporting the Transgender People in Your Life: A Guide to Being a Good Ally.
Read PFLAG's resource guide Our Trans Loved Ones.
This guide offers pertinent information and frequently asked questions about how families and friends of transgender people can best support them. I recognize that as a society, we don't automatically teach people how to support a loved one who's transitioning, but there are many resources to help you learn. As someone a trans person trusts, it is your responsibility to pursue, use, and share this information with others.
Learn best practices for writing and speaking about the community.
If you are writing or speaking about transgender people in general, you can reference GLAAD's Media Reference Guide. If you are specifically writing about transgender homicide, you can reference GLAAD's More Than A Number report.
Donate to organizations that support transgender people, including:
Trans Women of Color Collective (TWOCC) — A national organization focused on the prosperity of black transgender people. Since black trans communities are most affected by the epidemic of trans homicide, I want to highlight the profound significance of organizations that are focused on those communities specifically. If you can only donate to one of these organizations, I strongly urge that you choose this one. Through projects like their Healing and Restorative Justice Initiative (HRJI) and the Black Trans Health Initiative, TWOCC aims to shift the narrative about black trans communities from one of surviving to one of thriving. Executive Director Lourdes Ashley Hunter, MPA notes that "Every breath a black trans person takes is an act of revolution. You can support their incredible work by donating here.
Monica Roberts, AKA TransGriot — Monica has been blogging about her experience as an out, proud, black transgender woman since 2006. In 2018, Monica received a GLAAD Award for Outstanding Blog. When tracking and reporting transgender homicides for GLAAD, I relied heavily on Monica's reporting for information about new deaths because not only is she well-connected to trans advocates around the U.S., she also effectively distills information from these groups along with information from local reporters in order to help the community honor and remember each victim as they truly were. Donate here (her PayPal link is on the left side).
Trans Justice Funding Project — Provides annual grants to groups run by and for transgender people doing trans justice work. They are built on community-led giving because they assert that when wealthy donors and foundations control the giving process, they have too much power over what work actually gets done. One notable member is Andrea Jenkins, who became the first black transgender woman to hold any public office in the U.S. when she was elected as a policy aide on the Minnesota City Council in 2017. The organization's next grant cycle opens in December 2019, and applications will be available here. You can support them by donating here.
Sylvia Rivera Law Project (SLRP) — Offers affirming legal support to trans and gender non-conforming people regardless of income or race. They specialize in name changes, IDs, immigration and more. Transgender people frequently face harassment, discrimination, and violence when attempting to navigate the legal system, but organizations like SLRP help to ameliorate some common concerns. Additionally, by empowering more TGNC folks with the resources to update their legal name and gender markers, we reclaim the power from law enforcement, reporters, and families to misidentify us posthumously. Donate here.
Transgender Law Center (TLC) — Works to shape legislation, policy, and our culture so that trans people everywhere can live safely, openly, and free from discrimination. They offer support for trans people wishing to update gender markers and birth certificates as well as transgender legal clinics to help transgender folks in every state learn about their rights. Their work helps create a better world for trans people to live. Donate here.
Transgender Legal Defense and Education Fund (TLDEF) — TLDEF is working to end discrimination on the basis of gender identity and achieve trans equality through legal action and public policy. They also provide pro-bono name change services (apply here). Donate here to support their work.